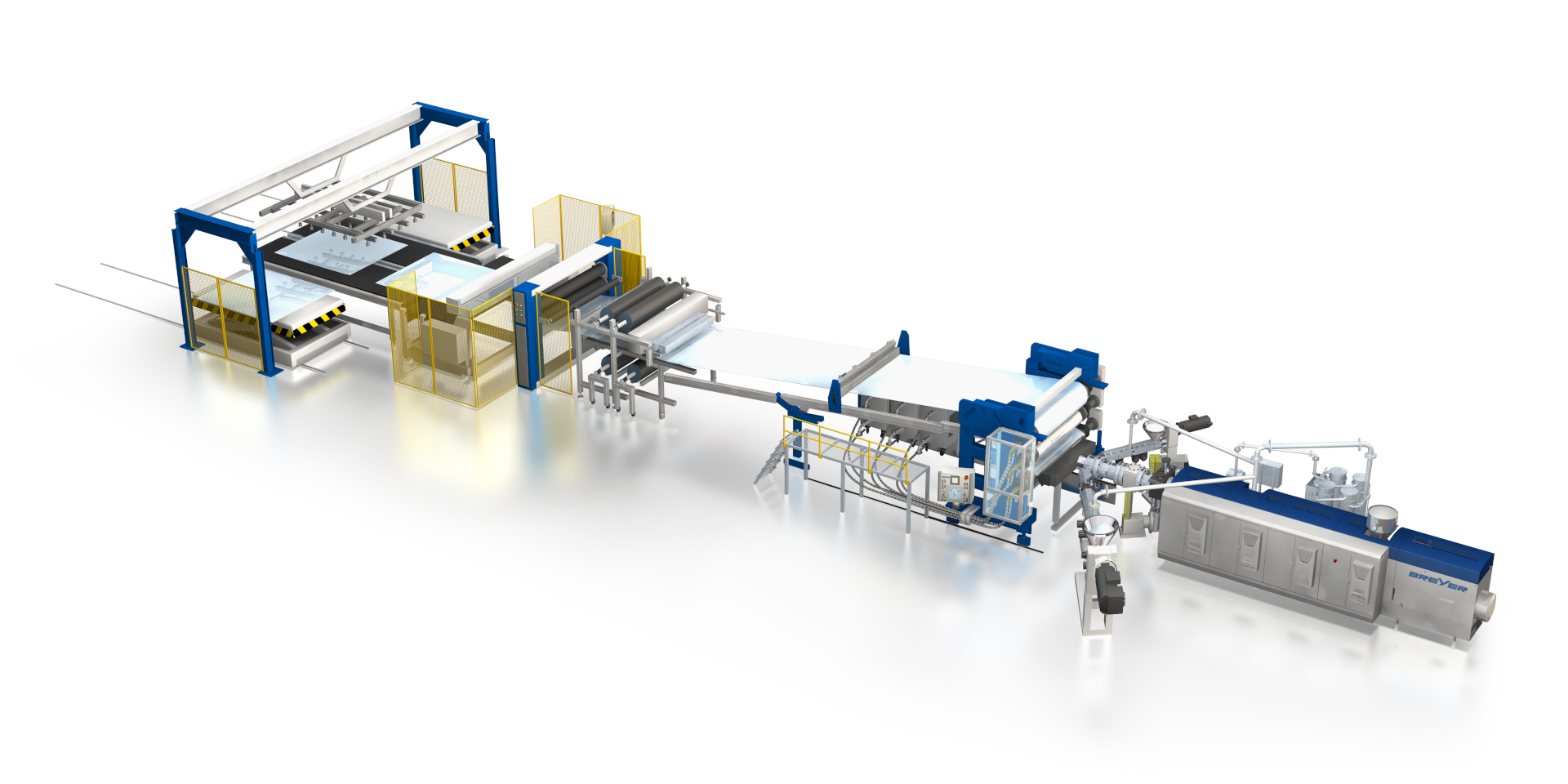 BREYER SolidStar Extrusionline for the production of sheet for technical and thermoforming application.
Standing still is falling behind.
There is hardly any other industry demanding higher flexibility in production than the automobile and consumer goods industry. Speed and a high level of adaptability are therefore vital for efficient production
even in the case of small lots. The solid and sophisticated BREYER system components offer you all the possibilities. This means that you always remain flexible enough to produce for a series of other applications, which the market demands.
The efficiency
of the extrusion line is essentially determined by an optimized use of materials. High availability, low tolerances, minimum scrap and high throughput performance therefore are the standards by which our systems are conceived.
Avantages
flexible machine configuration
High output
Effective venting - extrusion without drying
Coextrusion by feedblock or/and multilayer dies
Polishing unit with fast roll changing device
smooth, embossed, decorated sheets from a single machine
Technical data
| | |
| --- | --- |
| Sheet thickness | 1 - 20 mm |
| Sheet width | 1000 - 2500 mm |
| Output performance | 500 up to 1500 kg/h |
| Materials | ABS, ASA, PMMA, HIPS, TPU etc. |
| Versions | mono and co-extruded, smooth, embossed, filled, foamed |
| | |
---
Examples of application
Housing for automotive applications
Shower cabine made out of ABS-PMMA sheet
Akustic sheet for automotiv application
Technical impressions
Components

BREYER Extruder
One of the core elements of any extrusion system is and remains the extruder itself. Right from the start, the emphasis at BREYER is on quality and sophisticated technology.



Coextrusion
The combination of single-layer dies and co-extrusion feedblock allows flexible layer configurations to produce more complex composite films and sheets with fast changeover-times.

Single layer dies
The modular BREYER product programme can be
combined with a multitude of utilisations.




Multi-channel extrusion dies
Multi-channel dies are suitable when the processed materials have varying flow characteristics and an extrusion via co-extrusion feedblock does not allow a satisfying coating allocation.

Calender for sheet production
A BREYER calender system not only convinces with its high level of user friendliness but can also be changed from one product to the next at the turn of a hand.

Compact temperature control solution
BREYER temperature control units are compact high-performance devices for use with hot water of up to 180°C. They are used to control the temperature of rolls in calenders.

Masking system
To protect your high-quality product masking is essential. To one or both sides of the extruded film/sheet an adhesive masking film is applied. This adhesive masking film is available in different designs.

Lenght cutting saw
Any system is only as good as its components. This is why we don't make any compromises, especially when it comes to the sawing equipment.



Cross cutting saw
When it comes to cross cut sawing, cleanliness and protection against shavings are of the utmost importance.The BREYER cross cutting saw impresses with individual suction devices both above and below the sheet.

Stacking solutions
The efficiency of an entire line is often decided by the stacking system. As the end component, it is responsible for the efficient transfer to the further processing section or the packaging.