The new BREYER Universal Co-extruder
Never before has it been possible to expand your product palette so easily and hence to flexibly react to market requirements. Whether you have not yet installed co-extrusion or already work with well-tried co-extruders, the new BREYER Universal Co-extruder will give you the opportunity to succeed in the extruded tube market of the future.
Universal Co-extruder as a NEW INSTALLATION
The BREYER co-extruders have been tried and tested for decades. They are famous for their high service life in three-shift operation. With the new BREYER Universal Co-extruder we have added even more of these excellent characteristics, enabling you to considerably increase your product diversity. Please refer to the comprehensive materials list on the back page.
A uniform screw and consistent temperature control for all materials guarantee uncomplicated and efficient production.
YOUR BENEFITS for a new installation and retrofitting:
Considerable expansion of product diversity due to material flexibility
Up to approx. 20% more and consistent output performance
Uniform screw and consistent cylinder temperature for all materials
Higher system availability due to maintenance- and failure-free temperature control of the feed section due to air cooling
High service life of barrel extruder and cylinder in three-shift operation
Fast material change due to excellent cleaning properties and optimized feed section
Retrofitting independent from construction year of the extruder
Universal Co-extruder as a RETROFIT
If you own an older generation co-extruder, you only need three things from us to obtain up to 20% more output performance and a considerable expansion of your product diversity: A BREYER barrel extruder (1),
a BREYER cylinder with air temperature control (2) and a control module (3).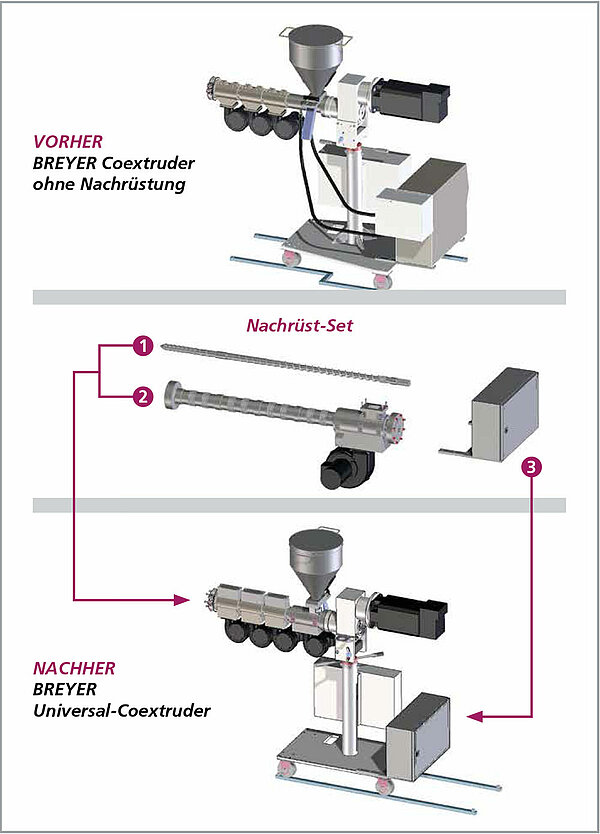 Barrel extruder and cylinder ø30 mm x 25D and ø45 mm x 30D
Air cooled, no-wear feed bushing with heater and cooler combination and filler bushing with heater and cooler combination and filler section
Electronic control module with temperature control and alarm light