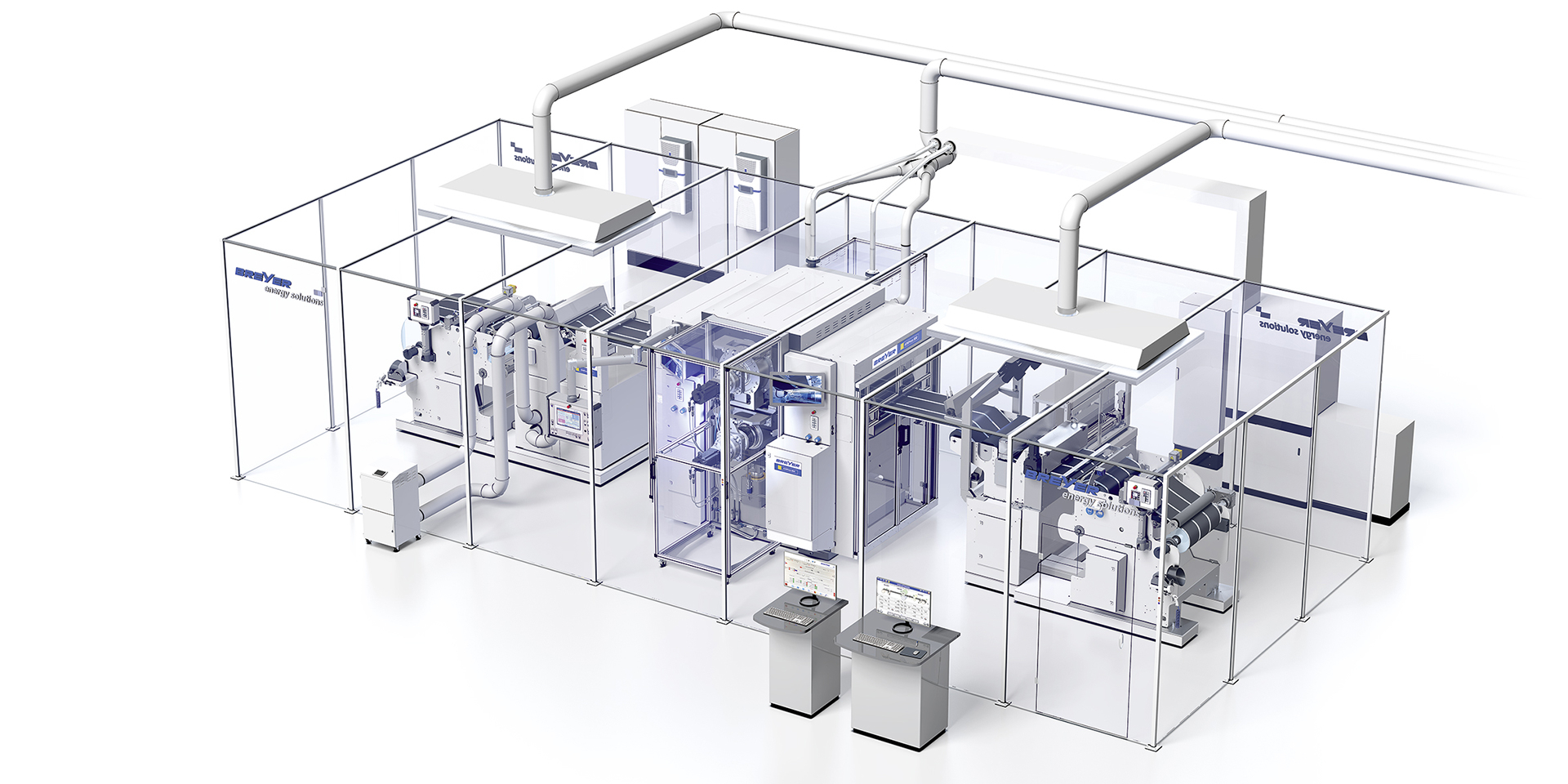 BREYER IONPress Calander-Technologie
Sophisticated production of electrode foils for lithium-ion batteries
The new generation of the BREYER IONPress calender represents a milestone in the improvement of lithium-ion electrode foil production.
Calender system for lithium-ion electrode production
During the calendering process, required properties such as the increase of the power density, optimized electron transport and improved contact between the particles have to be achieved.
> BREYER offers an advantageous solution that guarantees direct power flow!
BREYER's many years of experience in the field of calender manufacturing made it possible to develop a system that meets the high precision requirements in electrode manufacture. The precise and reliable calender system allows extremely low thickness tolerances.
It is crucial for the operator to be able to set the film thickness reliably, quickly and reproducibly. With the BREYER "fast & easy" gap adjustment technology, adjustment is almost child's play, even in these small dimensions. In connection with the inline thickness measurement, this system allows the construction of an automatic gap control.

The BREYER technology comprises the calendering of the electrode film in the "roll-to-roll" method. The complete line also includes the unwinding of the coated substrate, the inline thickness measurement, surface cleaning and the winding of the electrode film. Upon request, other system components can be integrated.
The machine is equipped with a color touchscreen and process monitoring system for convenient operation.
Advantages
Fast and reproducible thickness adjustment

Infinitely adjustable line load up to 4000 N/mm

Direct gap measurement

Defined compression through servo-hydraulic gap adjustment for distance and force

Smallest thickness tolerances

Powerful individual drives

security system

Compact design

Fast Roll exchange (< 3h)

Counter Bending system (option)

Convenient user interface, simple operation
Scope of supply
Unwinder for manual coil changes up to 50 m/min, with tension control and web edge control.

Automatic turret winders for highly automated systems up to 100 m/min

Non-contact web cleaning

Inspection systems

Calender IONPress with 600mm or 800mm roll width.

Roller quick exchange system

Optional counterbending device

Roller cleaning

Substrate pre-warming

Thickness measurement systems

Track&Trace

Tension separation via controled haul-off's

Winder for manual coil change up to 50 m/min, with tension control and web edge control.

Automatic turret winders for highly automated systems up to 100 m/min
BREYER · Innovations for better Solutions
Contact us and ask about BREYER IONPress.
The future has begun - with BREYER energy solutions you will also be at the forefront.
Technical data
| | |
| --- | --- |
| Line speed | 0.5 – 100 m/min |
| Roller temperature control | water / thermal oil |
| Roller widths | 600, 800 mm |
| Roller diameter | up to 800 mm |
| Roller surface | hard chrome-plated / carbide |
| Roller gap adjustment | servo-hydraulic control |
| Precision | ± 2 µm |
| Line loads | up to 4000 N/mm |
| | |
| | |
---
Examples of application
Electrodes (anode + cathode)
Calender with precision roller gap adjustment for line loads up to 4000 N/mm
Sophisticated calender gap system with direct gap measurement
Calendering of an intermittent coating
BREYER solid calender roll for high line load
Winder with cantilever winding shaft or with bearings on both sides, incl. web edge control, tension control and splicing function.
Cleaning station for the non-contact cleaning of surface soiling.
Laser measurement systems or other physical measuring methods can be used for thickness measurement.
Typical applications n e-mobility n cordless screwdrivers n vacuum cleaners n robotic lawnmowers n chainsaws n smart phones n laptops n tablets n medical technology n shipbuilding n aviation industry n industry automation ... and many more
Components

Calender for flat film
The BREYER calender gap adjustment "fast & easy" does not involve any mechanical adjusting parts. A sophisticated system permits precise and accurate positioning.



Special calender
Benefit from over 70 years of experience and know-how in the field of calenders. On this page we would like to introduce a special calender version.

BREYER Monitoring system
The BREYER monitoring system fascinates with its simplicity in operating. The operator is navigated intuitively by the system to the
required information and achieves his aim quickly.