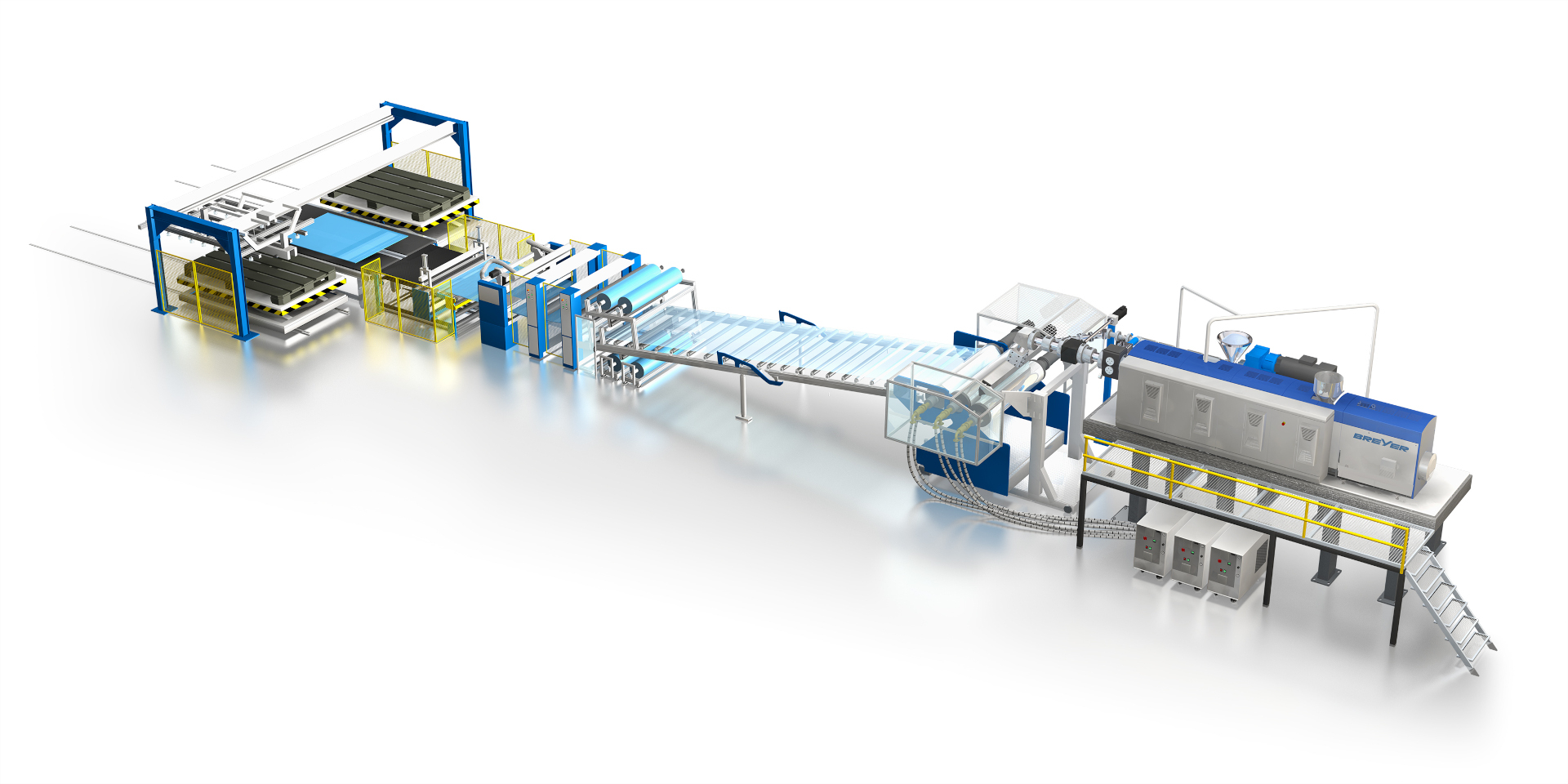 BREYER CrystalStar
Extrusion lines for clear sheet
Quality is the starting point for every success.
The clear sheet is unrivalled in its ability to illustrate the importance and power of light and transparency. Its lightness, robustness and versatility make it a true multitalent offering effective interpretation for many different applications.
It is not without reason that the highest quality clear sheets originate from BREYER systems.
The ideal combination of decades of know-how and superior extrusion technology has earned us a worldwide reputation.
Applications
Buildings
Advertisement panels
High-impact technical parts
Greenhouse roofs
Dome lights
Highway noise insulating panels
Machine coverings
Shower cabins
Motorbike shades
Caravan windows
Avantages
Processing of PC and PMMA with only one single screw
No pre-drying of resin necessary
High output performance
High quality sheet
Operator friendly terminal
Fast support via remote diagnosis
Technical data
| | |
| --- | --- |
| Sheet thickness | 0,5 - 25 mm |
| Sheet width | 1500 - 2900 mm |
| Output performance | 500 up to 2000 kg/h |
| Materials | PC, PMMA, PET |
| Versions | single layer, coextruded, smooth, embossed |
| | |
---
Examples of application
Solarboat designed out of PC and PMMA sheet
PC glazing for cable cars
PALSUN Shezhen Universiade
Components

BREYER Extruder
One of the core elements of any extrusion system is and remains the extruder itself. Right from the start, the emphasis at BREYER is on quality and sophisticated technology.



Coextrusion
The combination of single-layer dies and co-extrusion feedblock allows flexible layer configurations to produce more complex composite films and sheets with fast changeover-times.

Single layer dies
The modular BREYER product programme can be
combined with a multitude of utilisations.




Multi-channel extrusion dies
Multi-channel dies are suitable when the processed materials have varying flow characteristics and an extrusion via co-extrusion feedblock does not allow a satisfying coating allocation.

Calender for sheet production
A BREYER calender system not only convinces with its high level of user friendliness but can also be changed from one product to the next at the turn of a hand.

Compact temperature control solution
BREYER temperature control units are compact high-performance devices for use with hot water of up to 180°C. They are used to control the temperature of rolls in calenders.

Masking system
To protect your high-quality product masking is essential. To one or both sides of the extruded film/sheet an adhesive masking film is applied. This adhesive masking film is available in different designs.

Lenght cutting saw
Any system is only as good as its components. This is why we don't make any compromises, especially when it comes to the sawing equipment.



Cross cutting saw
When it comes to cross cut sawing, cleanliness and protection against shavings are of the utmost importance.The BREYER cross cutting saw impresses with individual suction devices both above and below the sheet.

Stacking solutions
The efficiency of an entire line is often decided by the stacking system. As the end component, it is responsible for the efficient transfer to the further processing section or the packaging.



BREYER Monitoring system
The BREYER monitoring system fascinates with its simplicity in operating. The operator is navigated intuitively by the system to the
required information and achieves his aim quickly.