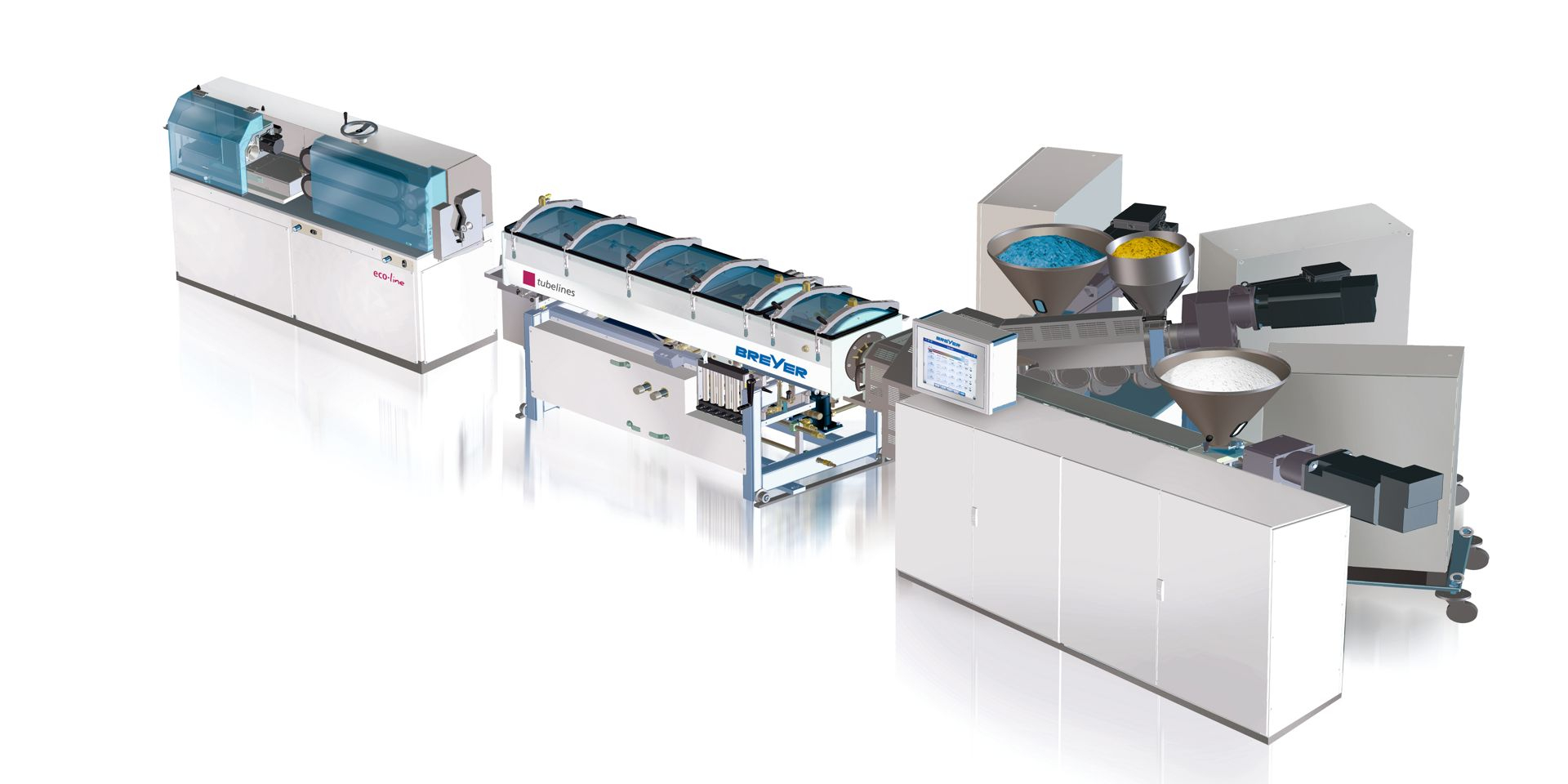 BREYER eco·line Extrusion lines for tubes
Everything good tube needs.
When it comes to tube packaging for the cosmetics industry, perfection and a professional design are paramount. However, packaging must also be manufactured economically.
Stay ahead of your competition.
Today, speed is a top priority in many production processes. It's good if you can refer to a technology that delivers good quality even at high speeds.
Clients from the world of cosmetics, which has high standards, know to appreciate this fact because perfect looks and tactile qualities often decide the success or failure of a product. Still, economic efficiency cannot be neglected in the production process. The BREYER eco·line meets with both standards in an optimal way – especially when the decision is made in favor of a multi-layer design.
The intelligent way to save energy and cost: please click here

Avantages
Cutting capacities up to 120 tubes/min.
Fast start-up within minutes.
Fast tool exchange for different tube diameter.
Short time for colour and material change.
Modular design – integration in complete lines.
Proofed BREYER tube extrusion technology.
Technical data
| | |
| --- | --- |
| Tube diameter: | 13 – 60 mm |
| Length: | 30 – 250 mm |
| Performance: | 60 – 120 tubes/min |
| Materials: | LDPE, LLDPE, MDPE, HDPE, PP, Mixtures, Special materials on request |
| Variations: | Single - and multilayer, up to 5 layers, with window |
---
Examples of application
Components

BREYER eco·line extruder
BREYER has managed to develop something, which
many customers desire: one screw for processing many different materials - allowing customers to be in the lead over their competitors.

BREYER eco·line coextrusion
Due to its modular design, each BREYER extrusion line can be configured to match your production requirements. Even a mono tube line can be expanded into a co-extrusion line later on without any problem.

BREYER eco·line calibrator
The calibrator is equipped with the appropriate calibration tool, depending on the required tube diameter.It is the heart of the tube calibrator and influences not only the quality of the tube but also the efficiency of the system.

BREYER eco·line cutting machine
Cutting-edge drive technology is used for our take-off and cutting machines. The system capacity is up to 120 tubes/min. and can be optimized ideally with downstream equipments.

BREYER eco·line operating
No need to renounce on comfort: